Women Veterans
The Sunshine State is home to the second largest population of women veterans in the nation, with more than 144,000. Women veterans are one of the fastest growing segments of the veterans' population.
Many women veterans don't know that they are eligible for the full range of federal and state benefits, to include special programs for them.
Florida's State Women Veterans' Coordinator is Vanessa Thomas.  She can be reached at thomasv@fdva.state.fl.us.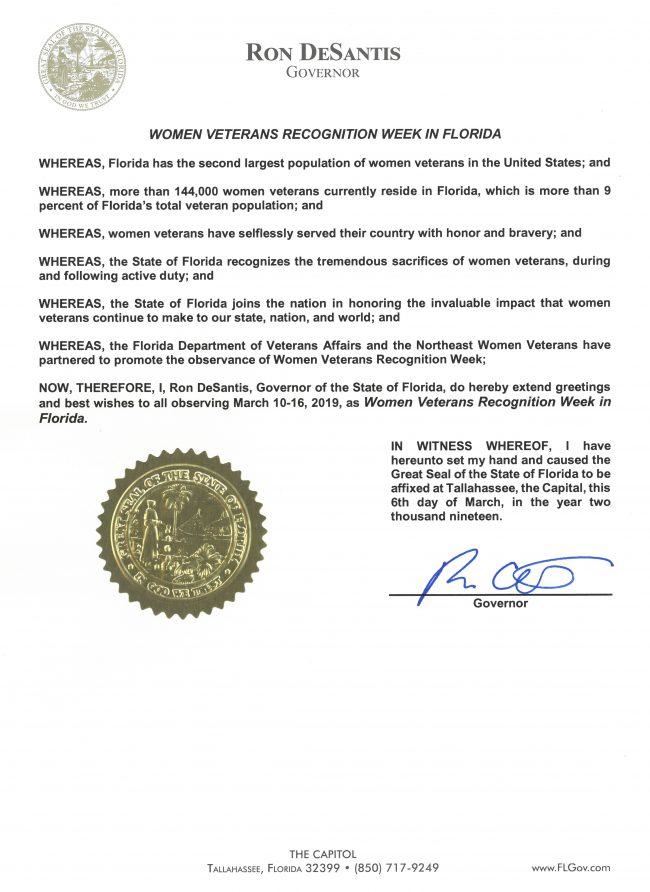 ---
Florida Veteran Appointed as Ambassador to Women in Military Service for America Memorial Foundation
WASHINGTON, D.C. – Retired Navy Lt. Cmdr. Cara Ann Curtin has been appointed as a volunteer ambassador for the Women in Military Service for America Memorial Foundation. Curtin, from Jacksonville, Fla., serves to promote the memorial and the service of women veterans throughout American history.
Located at the ceremonial entrance to Arlington National Cemetery, the Women's Memorial is the only national memorial honoring the service of women of all military branches who have defended America throughout history. The exhibits and artifacts there highlight the service of military women from the American Revolution through today.  For more information, visit www.womensmemorial.org.
There are more than 144,000 women veterans living in the Sunshine State.
---
VISN 8 Women Veterans' Program Managers
C.W. Bill Young VA Medical Center (Bay Pines)
Julia Adams
Women Veterans' Program Manager
727-398-6661, ext. 1432

Malcom Randall VA Medical Center (Gainesville)
Cheryl Tillman
Women Veterans' Program Manager
Toll Free: 1-800-324-8387, ext. 4064 Local: 352-379-4064
cheryl.tillman@va.gov
Lake City VA Medical Center
Cheryl Tillman
Women Veterans' Program Manager
Toll Free: 1-800-324-8387, ext. 4064 Local: 352-379-4064
cheryl.tillman@va.gov
Bruce W. Carter VA Medical Center (Miami)
Michelle Zielenski
Women Veterans' Program Manager
305-575-7000, ext. 7263
michelle.zielenski@va.gov
James A. Haley Veterans' Hospital (Tampa)
Pam Smith-Beatty
Women Veterans' Program Manager
813-972-2000, ext. 6695
Orlando (Lake Nona) VA Medical Center
Lisa Martel
Women Veterans' Program Manager
407-631-4088
lisa.martel2@va.gov
West Palm Beach VA Medical Center
Rosemary Balaguer
Women Veterans' Program Manager
561-422-6881
rosemary.balaguere@va.gov
---
Other Resources
VA Hotline on Health Care and Benefits for Women Veterans
1-855-VA-WOMEN (1-855-829-6636)
VA Center for Women Veterans
http://www.va.gov/womenvet/
Women Veterans Issues
https://www.benefits.va.gov/PERSONA/veteran-women.asp
Women Veterans Health Care
http://www.womenshealth.va.gov
Homeless Women Veterans
http://www.va.gov/homeless/for_women_veterans.asp
Women In Military Service For America Memorial Foundation
https://www.womensmemorial.org/
V-WISE – Women Veterans Igniting the Spirit of Entrepreneurship
http://vwise.vets.syr.edu/
U.S. Department of Labor Website for Women Veterans
https://www.dol.gov/agencies/vets/womenveterans