Spotlight: Women Veterans
The Sunshine State is home to the third largest population of women veterans in the nation, with more than 154,000. Women veterans are one of the fastest growing segments of the veterans' population. Of the approximately 21.3 million living veterans nationwide, more than 2 million are women.
Many women veterans don't know that they are eligible for the full range of federal and state benefits, to include special programs for them. Here are some resources for women veterans.
Florida's State Women Veterans' Coordinator is Darlene Scully.  She can be reached at scullyd@fdva.state.fl.us.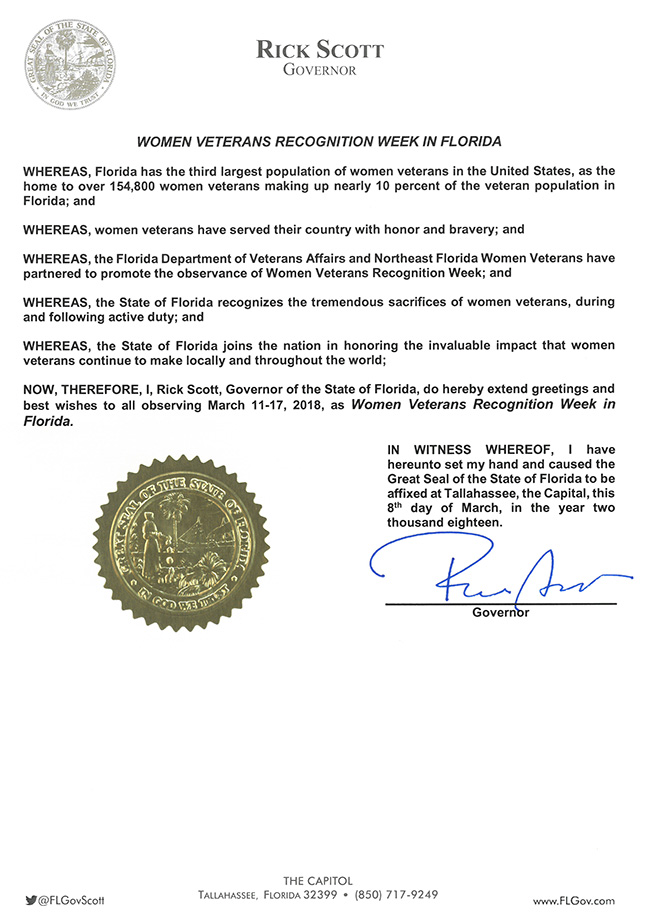 Other Resources
VA Hotline on Health Care and Benefits for Women Veterans
1-855-VA-WOMEN (1-855-829-6636)
VA Center for Women Veterans
http://www.va.gov/womenvet/
Women Veterans Issues
https://www.benefits.va.gov/PERSONA/veteran-women.asp
Women Veterans Health Care
http://www.womenshealth.va.gov
Homeless Women Veterans
http://www.va.gov/homeless/for_women_veterans.asp
Women In Military Service For America Memorial Foundation
http://www.womensmemorial.org/About/welcome.html
V-WISE – Women Veterans Igniting the Spirit of Entrepreneurship
http://vets.syr.edu/education/v-wise
U.S. Department of Labor Website for Women Veterans
http://www.dol.gov/vets/womenveterans/