Gold Star License Plate
July 8, 2016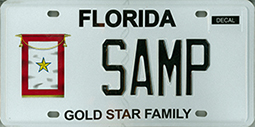 TALLAHASSEE – Gov. Rick Scott signed Senate Bill 88 into law on April 6, 2016.  The new legislation, which takes effect on July 1, 2016, expands the eligibility of certain individuals to obtain a Gold Star license plate.
The Gold Star license plate is a special license plate developed to honor the family members of a servicemember killed while serving in the U.S. Armed Forces. The plate is currently available to a spouse, legal mother or father, or stepparent currently married to the mother or father of a fallen servicemember who was living in Florida at the service member's time of death. The plate is issued, upon payment of the license tax and appropriate fees, without regard to the deceased service member's state of residence.
The surviving spouse and a surviving parent of a servicemember are eligible to receive one Gold Star license plate per household at no charge. An application for a Gold Star license plate requires proof of relationship to the servicemember and documentation from the U.S. Department of Defense or from its subordinate agencies, such as the Coast Guard, Reserve, or National Guard, deeming a servicemember to have been killed while in service.
The bill extends eligibility for a Gold Star license plate to a parent through adoption, foster parent, grandparent, child, stepchild, adopted child, brother, sister, half-brother, or half-sister of a fallen servicemember upon payment of the appropriate license tax and fees.