Gov. Scott Honors 142 Veterans with Governor's Veterans Service Award
December 20, 2013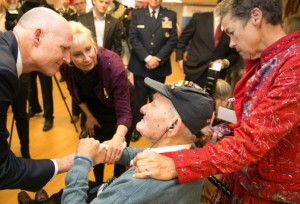 PANAMA CITY – Governor Rick Scott, joined by Adjutant General of Florida National Guard Major General Emmett R. Titshaw, Jr. and Executive Director of the Florida Department of Veterans' Affairs, Retired Army Colonel Mike Prendergast, awarded 142 Florida veterans with the Governor's Veterans Service Award for their service to Florida and the nation on December 16, 2013.
Governor Scott said, "The freedoms and opportunities that all Americans enjoy were paid for by the service of our brave veterans. Our goal is to create an opportunity economy in Florida that supports jobs and opportunities for generations to come. None of this would be possible without the service of our veterans. This medal serves as a testament of thanks from Floridians everywhere."
The ceremony was held at the Clifford C. Sims State Veterans' Nursing Home in Panama City, one of six veterans' nursing homes in the state. During the ceremony, Governor Scott highlighted the service of Florida veteran, Sergeant Ben Allison.
Sergeant Ben Allison
Sergeant Allison enlisted in the Alabama National Guard and after two years, he enlisted in the U.S.  Army. Ben received his ump and Ranger training in Fort Benning, Georgia and proudly served his country for 28 years. Ben received the rank of Sergeant during his first assignment in the 509th Parachute Regiment in Germany, and was assigned as squad leader in an Infantry Platoon Squadron.
During his military career, Ben led his platoon in recon parachute jumps in prominent areas throughout Italy, France, Spain and Belgium. He was later reassigned to the 101st Airborne Division and served in Vietnam, where he earned the Rank of Sergeant 1st Class.
Throughout his career, Ben received multiple commendations and achievements including the Silver Star, the Bronze Star with 1 Oak Leaf Cluster, an Army Commendation Medal with 1 Oak Leaf Cluster and V for Valor, the Vietnamese Campaign Medal with 1 Oak Leaf Cluster, among others. After two tours of combat in Vietnam, Ben was gravely wounded in 1968 when he made a command decision and overtook an enemy position. He received a Purple Heart for his heroic actions on that day.
Florida Veterans Medal
The "Governor's Veterans Service Award" honors Floridians who have served in the U.S. Military. The front of the medal depicts the Great Seal of the State of Florida. The back of the medal displays the five seals representing the five branches of U.S. Military with an inscription that reads "Honoring Those Who Served."
###