Gov. Scott Honors 154 Veterans with Governor's Veterans Service Award
August 16, 2013
ST. AUGUSTINE – Joined by Adjutant General of Florida National Guard Major General Emmett R. Titshaw, Jr. and Executive Director of the Florida Department of Veterans' Affairs, Retired Army Colonel Mike Prendergast, Governor Rick Scott today awarded 154 Florida veterans with the Governor's Veterans Service Award for their service to Florida and the nation.
Governor Scott said, "The freedoms and opportunities that are afforded by the American Dream were paid for by the service and sacrifice of our brave veterans. Our heroes have made countless sacrifices for Florida families and it is important that we take the time to frequently honor and thank them for their courage and their service. Although we can never thank our veterans enough, this medal will serve as a testament of our thanks from Floridians everywhere."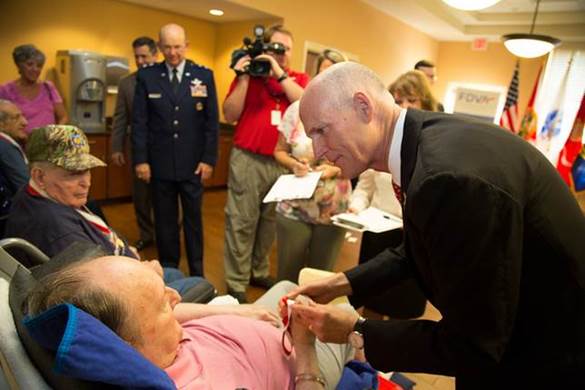 The ceremony was held at the Clyde E. Lassen State Veterans Nursing Home in St. Augustine, one of six veterans' nursing homes in the state. During the ceremony, Governor Scott highlighted the service of Florida Veteran, Colonel George Taylor.
Colonel Taylor was born in Greenville, South Carolina and honorably served the United States military for 30 years. Taylor began as a Distinguished Military Graduate from Clemson University, and went on to complete multiple combat tours, including Korea and Vietnam. Colonel Taylor quickly stepped up to the call of duty, and was awarded three Silver Stars, multiple Bronze Stars, Legion of Merit, the Soldiers Medal, the Purple Heart, and many others.
Taylor's Soldiers Medal was awarded for saving the lives of many military men during Vietnam. Colonel Taylor courageously ran up to an ammo truck that had caught fire in the middle of the camp and extinguished the fire before the truck exploded. Because of his decisive action, he saved lives as he ran directly into the face of danger. Additionally, Taylor's Silver Star was awarded for assuming the rank of Commander during an attack, calling for backup, and saving the lives of his men.
Florida Veterans Medal
The "Governor's Veterans Service Award" honors Floridians who have served in the U.S. Military. The front of the medal depicts the Great Seal of the State of Florida. The back of the medal displays the five seals representing the five branches of U.S. Military with an inscription that reads "Honoring Those Who Served."
###