Gov. Scott Honors Veterans in Winter Haven with Governor's Veterans Service Award
March 23, 2016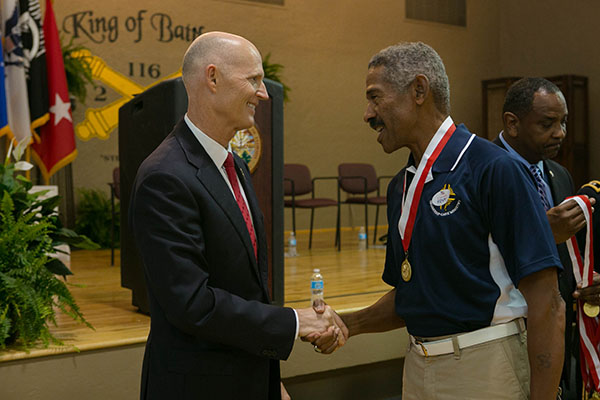 WINTER HAVEN, Fla. – Gov. Rick Scott awarded more than 190 veterans at the National Guard Armory here with the Governor's Veterans Service Award March 22 for their service to Florida and the nation.  Since 2013, the governor has presented more than 8,000 medals to honorably discharged veterans in ceremonies across the state.
Governor Scott said, "It is an honor to recognize so many veterans today who have made countless sacrifices for Florida families. As we mourn with the Country of Belgium, we are reminded of how important it is to thank the brave men and women in our military who fight against these acts of terror and work each day to keep our families and communities safe from harm."
The governor will visit Pensacola on April 7 for the next Governor's Veterans Service Award presentation.  The ceremony, which begins at 10:30 a.m. Central Time, will be held at the National Guard Armory at 8790 Grow Drive.  For more information, visit https://floridavets.org/gvsa/.
# # #