Port Charlotte Resident Honored for Service to Veterans' Nursing Home
September 14, 2012
Florida Heath Care Association Recognizes Mrs. Joan Jacobson as its 2012 Adult Volunteer of the Year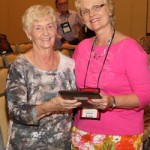 Tallahassee, Fla. – The Florida Health Care Association recently recognized Mrs. Joan Jacobson of Port Charlotte with the Association's 2012 Adult Volunteer of the Year Award.  Ms. Jacobson was honored for her service to the residents and staff of the Douglas T. Jacobson State Veterans' Nursing Home.  The Award is given annually to an adult who shows dedication and loyalty, along with a true desire to serve seniors, residing in Florida's long term care facilities.
Less than a year after her husband's death in 2001, Jacobson began her incredible journey as a volunteer with the Douglas T. Jacobson State Veterans' Nursing Home.  At that time, she played an important role in the ground breaking of the facility named in her husband's honor, and ever since, she has held an important spot in the facility's blue print.  For more than nine years, Mrs. Jacobson has served as the volunteer coordinator and assists the activities department in day-to-day operations and observances of patriotic holidays.  She created the Doug Jacobson Resident Fund and actively raises money, which has enabled the facility to set up a library, purchase computers for residents' use and pay for resident outings.
"Her dedication and joy in enhancing the quality of life to the veterans who call Douglas T. Jacobson their home is an inspiration to everyone," said Liz Barton, facility administrator.
For more information about FHCA, visit www.fhca.org.