Our Partners
Get Help Now
If you or a loved one are experiencing a mental health crisis,
click this banner to get help now.
The Florida Governor's Challenge Five Star Suicide Prevention Program
Several Florida organizations are working to support ongoing suicide prevention efforts, but through no fault of their own, often work in silos. The Florida Governor's Challenge to Prevent Suicide Among Service Members, Veterans, and the Families Five Star Suicide Prevention Program seeks to bring these entities together as a coalition. We believe that operating as community-based initiatives, coalitions extend the reach of evidence-based prevention, intervention, and postvention resources, training/education and services to reach underserved communities and populations. To that end, we encourage you as individuals, businesses or civic organizations to join our Five Star Suicide Prevention Initiative. The program is simple and the more you do, the more Stars you achieve. America loves a Five-Star level establishment! Yours can be one of those simply by signing up and following the program requirements below.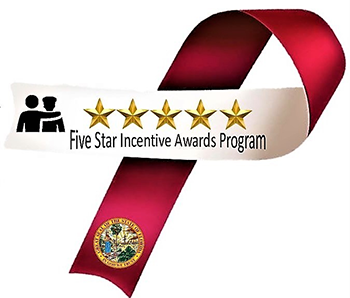 Five Star Incentive Award Program
| | |
| --- | --- |
| | Tier 1: General support (letter) – The interested party will provide a letter to the Florida Governor's Suicide Prevention Challenge Committee stating your willingness to participate in the 5 Star Suicide Prevention program. |
| | Tier 2: Tier 1 support + outreach, collaboration and program adaptation – The interested party will promote lethal means safety and suicide prevention within your particular entity on social media and physical marketing platforms, including business website; add the Florida Governor's Suicide Prevention Challenge hard copy and/or electronic media to your products/services being distributed (i.e., inserting a suicide prevention flyer into gun boxes when gun purchases are made); and display suicide prevention materials provided by the Florida Governor's Suicide Prevention Challenge Committee. |
| | Tier 3: Tier 1-2 support + training added to their normal operating procedures and processes – The interested party will complete one or more of these trainings: Watch Stander, peer support, or Veteran intake/counselor training (certificate of completion provided at end of training). |
| | Tier 4: Tier 1-3 support + Finance internal and external promotion/support – The interested party agrees to buy promotional items in support of workgroup specific initiatives (i.e., paying for a professionally designed and produced flyer, pamphlet, graphics, etc.; to be hung in your facility or inserted in your product/service packaging). |
| | Tier 5: Tier 1-4 support + Sponsorship/Finance – The interested party agrees to provide financial support to the Florida Governor's Suicide Prevention Challenge Committee Programs/Initiatives including branding, advertising, media buys and related educational materials. A listing of opportunities will be provided upon request once finalized. |
APPLY NOW
Governor's Suicide Prevention Challenge and Five Star Incentive Program Application