Gold Star Families
Florida honors its Gold Star Families.  Losing a loved one is one of the most difficult things anyone can go through. Florida Survivor Outreach Services (SOS) connects you with people who can help you move forward and find strength.
SOS Support Coordinators are located strategically throughout Florida to provide long-term support and assistance to Families of the Fallen.
Services provided by Florida SOS:
Provide expertise on State and Federal survivor benefits.
Provide guidance and assistance to the family in regard to entitlements and local resources.
Arrange for estate and financial advice when requested.
Educate the military command, community social services and support agencies of the needs of our military survivors.
Form networks and support groups so survivors will have peer support readily available.
Connect survivors with appropriate mental health support/counseling as requested.
Supply survivors with resource referrals for peer support, bereavement counseling, emergency financial services, Tricare, educational benefits, military reports and military benefits.
---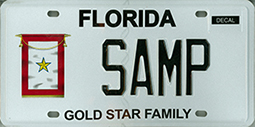 Gov. Rick Scott signed Senate Bill 88 into law on April 6, 2016. The legislation expands the eligibility of certain individuals to obtain a Gold Star license plate. Read more
2018 Gold Star Family Day in Florida Resolution
---
Additional Information
Consult the following websites for assistance and additional resources.
Florida Survivor Outreach Services (SOS)
http://fl.ng.mil/services/Pages/Survivor-Outreach-Services.aspx
Navy Gold Star Program
http://www.navygoldstar.com
American Gold Star Mothers
http://www.goldstarmoms.com/
Gold Star Fathers of Florida
https://www.goldstarfathersofflorida.org/
Gold Star Awareness
www.goldstarawareness.com
*Tampa Gulf Coast North Chapter, American Gold Star Mothers
http://agsmtampa.com/
Gold Star Wives
http://www.goldstarwives.org/
Tragedy Assistance Program for Survivors
http://www.taps.org/
Military OneSource
http://www.militaryonesource.mil/
Hershel "Woody" Williams Medal of Honor Foundation honoring Gold Star Families
http://hwwmohf.org/monument-overview.html