Gold Star Families
Florida honors its Gold Star Families.  Losing a loved one is one of the most difficult things anyone can go through. Florida Survivor Outreach Services (SOS) connects you with people who can help you move forward and find strength.
SOS Support Coordinators are located strategically throughout Florida to provide long-term support and assistance to Families of the Fallen.
Services provided by Florida SOS:
Provide expertise on State and Federal survivor benefits.
Provide guidance and assistance to the family in regard to entitlements and local resources.
Arrange for estate and financial advice when requested.
Educate the military command, community social services and support agencies of the needs of our military survivors.
Form networks and support groups so survivors will have peer support readily available.
Connect survivors with appropriate mental health support/counseling as requested.
Supply survivors with resource referrals for peer support, bereavement counseling, emergency financial services, Tricare, educational benefits, military reports and military benefits.
---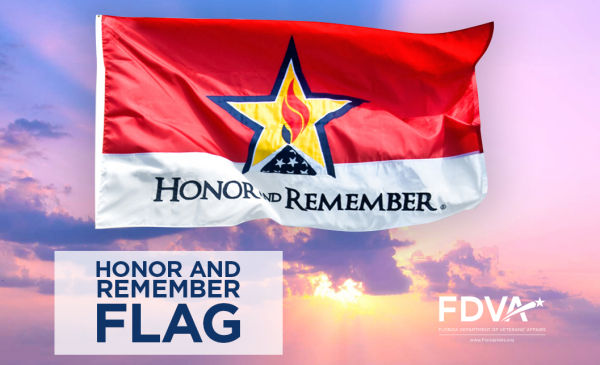 ---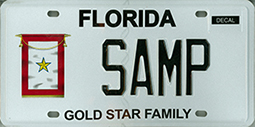 The Gold Star license plate is a special license plate developed to honor the family members of a servicemember killed while serving in the U.S. Armed Forces. For more information, visit https://www.flhsmv.gov/motor-vehicles-tags-titles/personalized-specialty-license-plates/specialty-license-plates/.
---
2018 Gold Star Family Day in Florida Resolution
2019 Children of Fallen Patriots Day Proclamation
---
Gold Star Family Memorial Monuments
Veterans Memorial Park
2100 Veterans Park Memorial Drive
Port St. Lucie, FL 34985
http://hwwmohf.org/port-st-lucie-fl.html

Franklin Boys Preparatory Academy
3915 E. 21st Avenue
Tampa, FL 33605
http://hwwmohf.org/tampa-fl.html

Gold Star Family Memorial Monuments in Progress
Gainesville
Melbourne
Orlando
Palm Beach County
Palmetto Bay
Pensacola
Hershel "Woody" Williams Medal of Honor Foundation honoring Gold Star Families
http://hwwmohf.org/monument-overview.html
Additional Information
Consult the following websites for assistance and additional resources.
Florida Survivor Outreach Services (SOS)
https://fl.ng.mil/services/Pages/Survivor-Outreach-Services.aspx
Navy Gold Star Program
http://www.navygoldstar.com
American Gold Star Mothers
http://www.goldstarmoms.com/
Gold Star Fathers of Florida
https://www.goldstarfathersofflorida.org/
Gold Star Awareness
www.goldstarawareness.com
Gold Star Wives
http://www.goldstarwives.org/
Tragedy Assistance Program for Survivors
http://www.taps.org/
Military OneSource
http://www.militaryonesource.mil/